The Best Metal Cleaner
The best metal deserves the best metal cleaner: Sheila Shine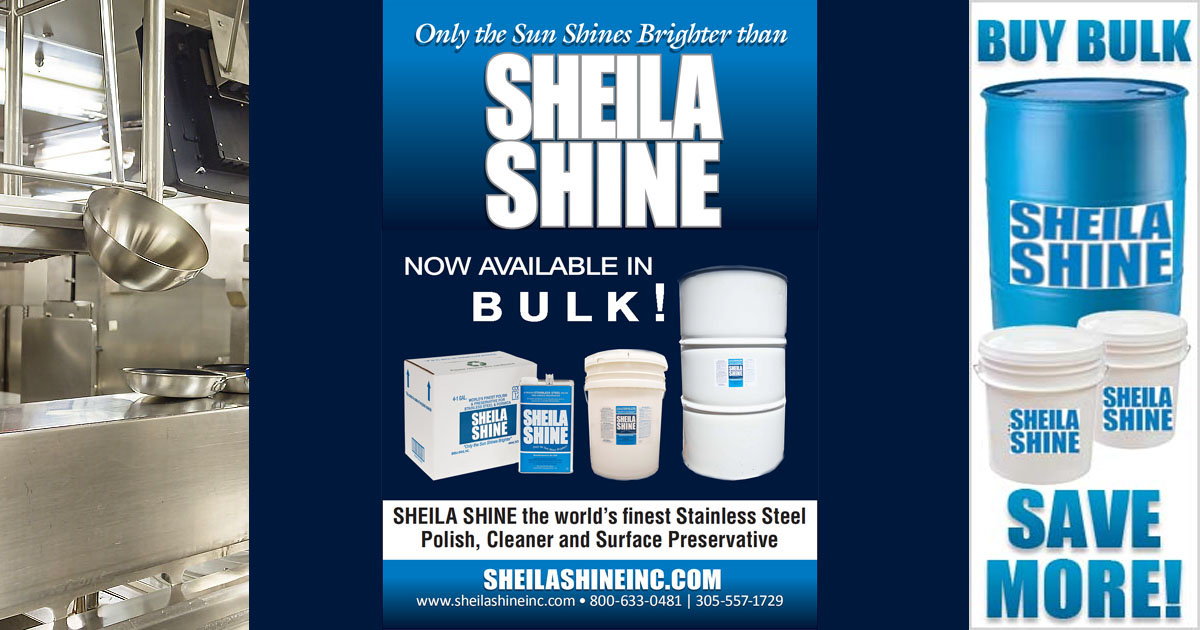 Have you ever wondered why so many commercial businesses use stainless steel in their construction?  Stainless steel products actually play an active role in improving hygiene in restaurants, schools, health centers, hotels, and main public areas.  Not only does stainless steel help with hygiene, but the aesthetic and easy maintenance qualities also make it one of the best metals to use.  The easy cleaning ability of stainless steel makes it the first choice for strict hygienic conditions where people congregate.  It is corrosion-resistant and very strong for everyday use.  Stainless steel has no pores or cracks to harbor dirt, grime, or bacteria.
While stainless steel is recognized as a safe and agreeable metal to use, not all cleaners do the trick when it comes to keeping it clean, safe and shiny.  While using soap and water is good for every day cleaning, you need a cleaner that is going to protect it and keep its wonderful shine.  Enter Sheila Shine!
Business Investment
Business owners consider stainless steel a good investment while they are constructing their commercial properties.  It is a substance that does not break or crack.  However, it can lose its shine and become dull and unattractive.  When you use a cleaner specifically designed for stainless steel, like Sheila Shine, you are getting a cleaner that not only cleans but also protects and shines as well.  Using Sheila Shine is three steps in one, allowing all of your stainless steel surfaces to be maintained in the as-new condition for decades.
Power of Stainless Steel
Stainless steel's satin smooth and mirror bright characteristics lends its beauty to its surroundings, blending perfectly with other fixtures and finishes.  The bright surfaces of stainless steel provide a modern and attractive appearance.  It does not warp and buckle easily and can retain its natural color for a very long time. Because stainless steel does not corrode under normal conditions and never needs paint, costly maintenance is cut right out.  All you need is a fantastic stainless steel cleaner to keep it shining bright for years to come.
3-in-1 Process
Sheila Shine is the perfect product for your commercial needs.  It is a 3-in-1 process as it cleans, shines and protects in just one use.  It is a solvent based formula and is safe for use around food.  That means that Sheila Shine can be used in kitchens without hesitation or fear of contamination.
Proper Maintenance with Sheila Shine
Stainless steel products are durable and will last forever in a commercial setting.  Why not protect it with proper cleaning and maintenance?  If you do that, you will never have to replace it.  With Sheila Shine you will never need another cleaner and you don't have to worry about damage to your stainless steel.  You can buy Sheila Shine in bulk so it will cost less down the line.  It's great for all your needs and will keep your stainless steel shining bright!
For your stainless steel cleaning needs, all you need is Sheila Shine!
Tel: 305-557-1729
Email: