Sheila Shine In Atlanta
Welcome to Atlanta, where everything shines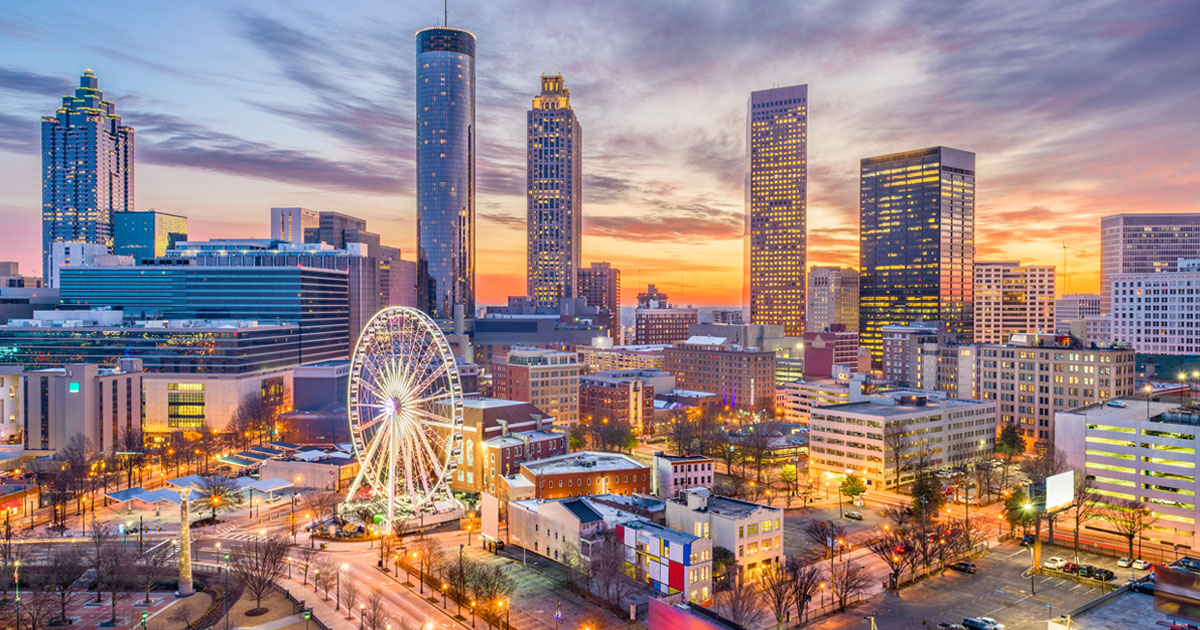 When we tell you that Atlanta shines, we aren't kidding. There is a need for impressionism in Atlanta and you can see it when you enter any office building, high-rise or hotel as well as other attractions like the aquarium. And when you have a lot of glitz and shine, you have a lot of stainless steel that needs to be kept clean and protected. For example, as soon as you step inside The World of Coca-Cola, you are met with large windows bordered by stainless steel. It is grand and that steel doesn't clean itself.

Sheila Shine metal polish and cleaner is now used regularly in government buildings, airlines, hospitals, universities, civic buildings, department stores, leading hotel and motel chains, well-known restaurant chains, office buildings, public schools, banks, and so much more! If they are not, tell your janitorial service to stock Sheila Shine for the best results when polishing and cleaning metal surfaces.
Atlanta, nicknamed "the city in a forest" because of its surrounding highly dense suburban areas, is a major metropolitan city like no other. Unlike New York City, Atlanta is laid out in a more suburban setting despite being a major city. You can take mass transit, but it's easier to drive. Atlanta is surrounded in a seeming circle by interstate highway 285 and you are either inside or outside the perimeter. That lets locals know where you are in the city. It is home to some of the most amazing restaurants in the world as well as headquarters to many large corporations, moguls, celebrities, and sports teams. There is something for everyone in this amazing culturally diverse city.
When you drive toward Atlanta, whether it is day or night, she peeks out at you with all her grandeur and glitz. Downtown Atlanta seems to shine, no matter what time of the day it is. When the 1996 Olympics came to town, Atlanta saw a rise in, well, everything. Apartment buildings seemed to spring up out of nowhere, high rises were built and people rushed toward Atlanta with enthusiasm. They never seem to have left. It's as if the Olympics gave light to this town and it has been shining ever since.
If you own a business in Atlanta, no matter how big or small, you know that keeping your business sustained and healthy means keeping it appealing to the masses. And at a time when cleanliness, health, and safety are everything, you have to make sure you are using the right products to protect and clean your business. Whether you own a restaurant in Buckhead, an office building in the heart of downtown, or a hotel in midtown, you need to make a statement.
For a product that is going to provide invaluable cleaning and protection of stainless steel, look no further than Sheila Shine! It is simply the best commercial cleaning product on the market for stainless steel surfaces that require constant cleaning. Sheila Shine is the only stainless steel cleaner that is a 3-in-1 process. It cleans, shines and protects all in one application. No need to use anything else, Sheila Shine has it all.
Let's keep Atlanta shining. Add Sheila Shine to your repertoire of products for all of your clients' stainless steel needs. The need for it in Atlanta won't go away any time soon!
Sheila Shine is the best metal cleaner and polish in Las Vegas.  It is available in bulk for wholesalers and distributors. See what Sheila Shine can offer your businesses. Contact us today.
Tel: 305-557-1729
Email: