Cleaning Stainless Steel In Your Home
Cleaning stainless steel in your home is super simple with Sheila Shine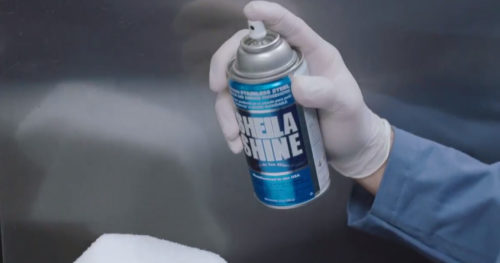 Stainless steel is a perfect fit for the home.  Whether it's the high resistance to rust, extreme temperatures, or, as the name implies, stains, there is a place for stainless steel across all areas of décor.  Though reliably durable, the material is not indestructible.  Maintenance is needed to keep it looking like new.
Is your stainless steel starting to look gross and grimy?  Stainless steel is a popular finish in many kitchens and shows itself on everything from refrigerator doors to cabinet handles.  Though this sturdy material won't permanently stain, you might notice that things like greasy fingerprints or splashes of pain can and will stick to the steel.  To restore its shine, you need a stainless steel cleaner that cleans without harming the metal.  Here are some steps that can get your appliances, sinks and fixtures looking brand new.
Step 1: Know what cleaners to avoid
The first step in knowing how to clean stainless steel is recognizing which methods are a bad idea.  Before you cause any lasting damage, put down the steel wool or any other abrasive cleaning materials.  These materials can scratch your stainless steel, leaving it looking dull and scraped.
Step 2: Start with a gentle dish detergent cleaning
The simplest place to start is by using a warm, dish soap detergent mixture.  This method works for everything from cleaning a stainless steel refrigerator to a stainless steel sink.  Use a ratio of 1 teaspoon dish detergent to 1 quart of hot water.  Use a soft rag to gently scrub the stainless steel.  Dry the surface with a fresh microfiber dry cloth.  If your stainless steel was just a bit dirty, you might be able to do this step alone.  However, if you are still noticing some buildup, move on to the next steps.
Step 3: Remove any caked on gunk
Dish detergent is great for basic cleaning but what do you do if you have a serious mess:  When you have grime in the crack around your kitchen drain or tomato sauce baked on your stove, you need to do more detailed cleaning.  You can make a paste out of baking soda and water and use it to scrub away the buildup.  Baking soda is gentle enough to avoid scratching stainless steel, and it can help dissolve away grime.
Step 4: Apply a stainless steel cleaner
If you still have dirt and grime on your stainless steel, it's time to pull out the big guns.  Try using a commercial stainless steel cleaner like Sheila Shine.  It is carefully formulated to dissolve messes without harming your appliances and fixtures.  Sheila Shine isn't just a cleaner, however.  It cleans but also creates a protective coat to keep future messes from happening.  It also polishes your stainless steel so that it leaves it shining and gleaming.  No other cleaner can clean, protect and polish all at once.
When you want your stainless steel products to get really clean, try Sheila Shine, available in a low VOC formula that doesn't harm the environment.
Phone: 305-557-1729
Email: